Tuesday 10 April 2007
Par Mia, Tuesday 10 April 2007 à 23:08 :: [NDS] Everlasting Love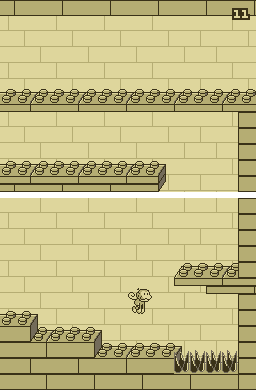 Download:

.nds file: EverlastingTH.zip
.ds.gba file: EverlastingTH_gba.zip
.sc.nds file: EverlastingTH_sc.zip

Source : Everlasting_src.zip


Presentation of the game here


• What's new in version 0.3:

- New level: Tomorrow Hill, on the eponymous song taken from Wario Ware Smooth Moves.
- Press 'start' button to restart the game.
- Added a 'old game boy yellow' color palette.
- Separate collision map.
- Minor adjustments.

Note: Due to technical reasons (sound bug with PAFS in the current version of PAlib), the first level is not included in this release.
Note 2: There's a hidden passage way somewhere in this level...