Wednesday 9 March 2011
Par Mia, Wednesday 9 March 2011 à 13:09 :: [Dingoo] DinguxCommander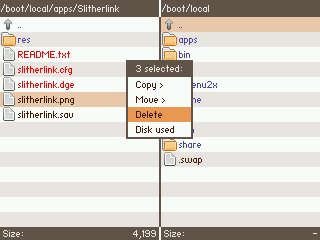 More screenshots: [1] [2] [3] [4] [5]

Download: DinguxCommander_v2.1.tar.gz

Source code: DinguxCommander_v2.1_src.tar.gz

DinguxCommander is a file manager for Dingoo A320 (Dingux).
It uses two vertical panels side by side, one being the source and the other the destination, like many 'commander-style' file managers such as Norton Commander or Midnight Commander.
DinguxCommander allows to:
o Copy, move and delete multiple files.
o View a file
o Execute a file
o Rename a file/dir
o Create a new directory
o Display disk space used by a list of selected files/dirs
o Display disk information (used, available)

For more information, read file README.txt.